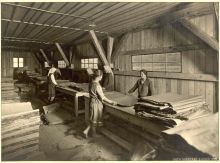 1873
Start of operation
Start of operation of the Sladkogorska paper factory, a plant for the production of cardboard and wood pulp using the water of the river Mura as a power source and the extensive forests in the area as a source of raw materials. After a little over 10 years, the factory registers its activity. Manufacturing process: The machinery was driven by two small manually regulated water turbines, carboard was dried in air drying rooms (steam dryers were not yet known) and all other aspects of the process were extremely primitive. Annual output: 900 tonnes of products. No. of employees: 60.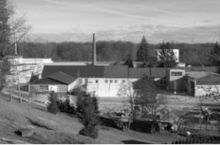 1888
Founding of the factory in Ceršak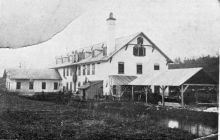 1895
The factory burns down
Shortly after Duke Robert of Parma purchased the factory from Count Lucchesi-Palli, it burnt down.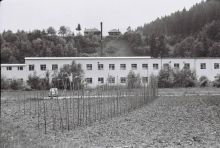 1896
Founding of the factory in Prevalje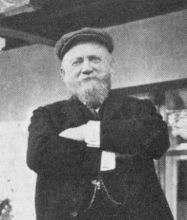 1898
Production resumes under the new owner, Daniel Feuerloscher.
Manufacturing process: The old drying plant is replaced by a new one in which up to 12 wagonloads of cardboard could be dried. The first wood steaming plants were built to enable the manufacture of brown cardboard. Sufficient hydropower was provided by enlarged inflow and outflow channels.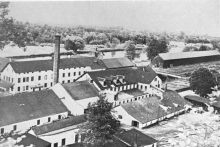 1918
First World War
The consequences of the First World War were also visible in the factory. Machinery: five cardboard machines two Francis turbines (280 and 560 hp) one Jonval turbine (170 hp) two hydraulic grinders for wood other machines – all in a poor state of maintenance. Daily production: 5 tonnes patent cardboard and 4 tonnes air-dried cardboard No of employees: 85. Products: brown and white cardboard, wood pulp.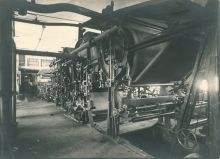 1921
Purchase of the first paper machine
Then owner Josip Rosenberg makes the decision to buy a paper machine and the factory changes its name to ""Cardboard and Paper Factory"". Machine: VOITH purchased for the production of one-sided smooth wrapping paper and paper for cardboard tubes and packaging with a width of 1.75 m. It reached a speed of 120 m/min the steam needed to power the machine and for the drying process was supplied by new steam boilers Annual output: 4 800 tonnes No of employees: 160. Products: papers, wood pulp and cardboard.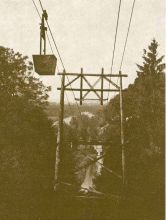 1925
Construction of aerial ropeway
The double or triple process of loading and unloading raw materials, the distance from the Weitersfeld railway station and the high tariffs charged by the Austrian railway operators persuaded Sessler (a relative of Josip Rossenberg's) to build a 6.2 km aerial ropeway.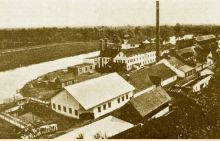 1936
Installation of paper machine No 2
Machine: VOITH for the production of raw roofing cardboard could make cardboard up to 1300 mm thick. Annual cardboard production: 15 tonnes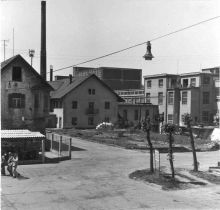 1947
Unification of the paper industry in NW Slovenia
Five companies operated under a single management based in Maribor: the Sladkogorska and Ceršak operations and the factories in Podvelka, Prevalje and Mislinja. The joint name for this combined company was Sever Papir ("North Paper").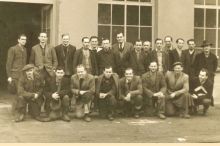 1954
Planning of buildings in Sladki Vrh
Planning of the main production plant and other buildings at the Sladki Vrh site. The decision was made to refocus the entire activity of the company, in the first phase of reconstruction, to thin papers. The decision was made to refocus the entire activity of the company, in the first phase of reconstruction, to thin papers. The subsequent reconstruction included the purchase of new paper machines and the upgrading of existing ones.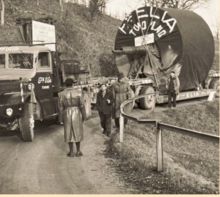 1961
Installation of paper machine No 3.
Machine: ER-WE-PA for the production of wrapping paper and hygienic paper in the first phase, paper prodution increased by 6000 tonnes a year width 2.48 m Annual output: 20 000 tonnes (all papers)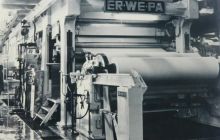 1966
Installation of paper machine No 4.
Machine: ER-WE-PA for the production of tissue paper width 2.5 m speed 750 m/min A new production hall was also built at this time for the preparation of raw materials, and for the new raw material preparation required by the new paper machine No 4. With the installation of the new paper machine, an increase in the use of processing water was foreseen, which required a new water treatment plant to be set up. New power plants were also installed, including a steam boiler, a steam turbine and an entirely restructured power grid. The new type of paper enabled the production of new products: one-ply and multi-ply white, coloured and printed napkins.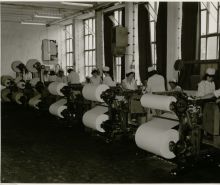 1967
Start of manufacture of hygienic paper products
Purchase of the first semi-automatic machines for roll production. The advantage of these was in the rewinders, which were connected to slitters, thus giving the sensation of a complete line. A single-track machine for paper handkerchiefs was also installed. A year later, with the purchase of three Lerner machines, the company began manufacture of new product – packs of folded toilet paper. The company later began building these machines itself, with the result that by 1978 their number had grown to 18.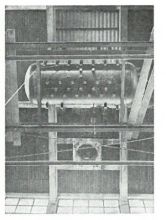 1973
Installation of paper machine No 5.
Machine: ER-WE-PA for the production of tissue paper width 2.5 m speed 900 m/min An enormous amount of work was carried out in this period. All the older paper machines were renovated. The expansion of paper processing required a new, second hall for paper converting and the new machine No 5. The installation of the latter enabled the further expansion of production. New machines were installed for the production of toilet rolls, sanitary towels, nappies, multi-purpose towels, napkins and tissues. Annual output: 40 000 t. No of employees: 1,100.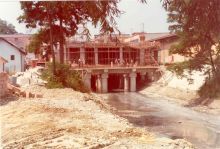 1977
Installation of paper machine No 6
Machine: ER-WE-PA for the production of toilet tissue width 5.2 m speed 1200 m/min With the installation of paper machine No 6, production increased by 35,000 tonnes. At the same time the company modernised its heating system, shifting from fuel oil to gas, which brought major environmental improvements. The introduction of closed circuits contributed to a reduction in the consumption of water and fibres per tonne of paper. Total annual output: 75,000 tonnes This same year Tovarna lepenke Ceršak p.o. and Tovarna lesovine in lepenke Prevalje p.o. were merged into Sladkogorska tovarna papirja Sladki Vrh p.o.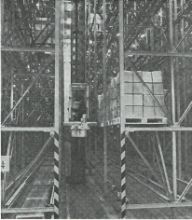 1978
Construction of a high-bay warehouse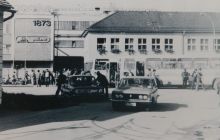 1987
Installation of de-inking plant
A pulp preparation plant which enabled the company to produce high-quality paper from cheap old paper. No of employees: 2019.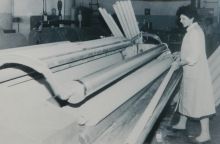 1989
New developments in the converting departments
A new HOBEMA machine (9th line) was purchased for the production of printed (four-colour) and non-printed napkins with automated control. Roll lines were modenised with new gluing units and reel storage. This was not actually key year for modernisations, since many of these had been carried out in previous years. They included a change to the method of palletising products using stretch wrap, the installation of packaging machines with more advanced electronic controls, toilet paper transport systems, a new production line for Tempo high-quality tissues, etc.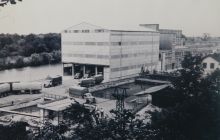 1990
Change to the company name
Sladkogorska tovarna papirja Sladki Vrh n.sol.o. was renamed and became the socially-owned enterprise Paloma – Sladkogorska tovarna papirja p.o., Sladki Vrh 1. No of employees: 2,052.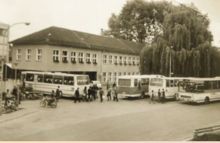 1992
Modernisation of paper machine No 4
The substitution of the round sieve with a longitudinal/diagonal one allowed higher quality production of tissue paper for napkins and facial tissues. No of employees: 1,842.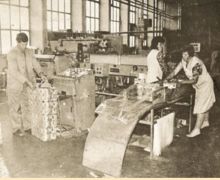 1994
Installation of a modern pocket tissue production line.
This represented a major jump in capacity and technology. Featuring computer-controlled machinery and a fully automated line, it was incomparably more modern than the existing technology. No of employees: 1,805.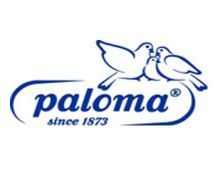 1996
Another renaming
On 24 July 1996 the Court of Registration in Maribor issued a decision on the transformation of the socially-owned Paloma – Sladkogorska tovarna papirja p.o. into a limited liability company, and on 14 June 1996 the company was acquired by the Slovenian Development Corporation (SRD). On 1 March 1999 Tovarna lepenke Ceršak became an independent company, as did Tovarna lepenka Prevalje on 1 May 1999. No of employees: 1,521.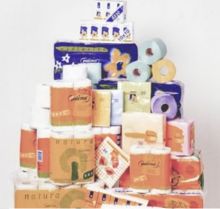 1997
Redesign of the company's Paloma umbrella brand
The Paloma umbrella brand was given a new image.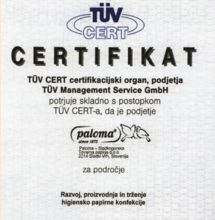 2000
Acquisition of ISO 9001 certification
This same year Paloma became a public limited company and installed paper machine No 11 for printed napkins, featuring a new multicolour printing method.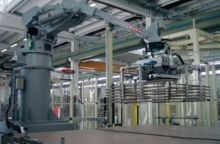 2001
Modernisation of toilet roll production
Toilet roll production was modernised and an ISO 14001 environmental management system was implemented.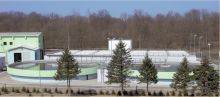 2002
Construction of a waste water treatment plant
The reason for constructing the treatment plant was to eliminate pollution of the environment with waste water from Paloma and sewage from the compact settlements in Sladki Vrh. The first trial run of the treatment plant took place on 17 October 2002. Other notable events in 2002 included: Construction of a warehousing/distribution centre in Šentilj. The new distribution centre consists of three large warehouses, an administrative annexe and a machinery shed and covers a total area of 7,500 m2. The distribution centre is a modern facility with a covered loading area for rail transport. New line for folded towels. Addition to the tissue packaging range. A new tissue packaging machine allowed us to expand our range of large packs from the existing 24 packets in one roll (2411) to 48 packets (4811). New line for maxi rolls and towels. Acquisition of OHSAS 18001 certification for occupational health and safety.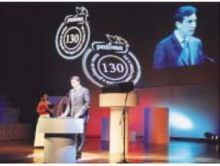 2003
130 years of Paloma
This year Paloma celebrates its 130th anniversary. This is also the year we obtain ISO 9001:2000 quality management certification. In May we redesigned the Paloma website, adding interactive and multimedia functionality and a range of new content, and improving usability and layout.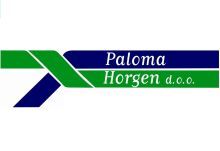 2004
Establishment of Paloma Horgen
Deployment of the new iScala integrated information system and the establishment of Paloma Horgen d.o.o. in Ceršak for the manufacture of crêpe products.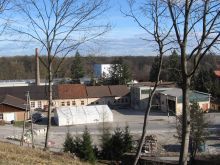 2006
Acquisition of a shareholding in Paloma Horgen d.o.o
Acquisition of a 40% share of subsidiary Paloma Horgen d.o.o. (Paloma d.d. becomes the sole owner).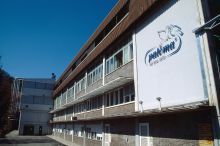 2007
Merger of Paloma Horgen with the parent company
This year Paloma Horgen d.o.o. was merged with Paloma d.d. The year also saw the start-up of a new 13th line for the production of pocket tissues.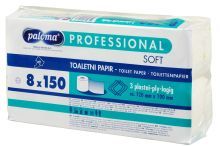 2008
Launch of Away From Home products in key markets
In 2008 the entire AFH division was modernised and products were launched in key markets with new packacking.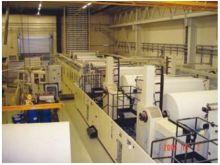 2009
Start-up of the 11th toilet paper and kitchen towels production line.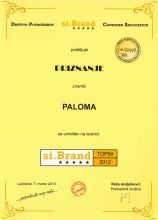 2012
Paloma receives a si.Brand Top 50 certificate
This year, in addition to receiving a certificate from consumer research organisation si.Brand, Paloma: Obtained the BRC (British Retail Consortium) standard, Introduced its new Paloma Professional Palbib napkins, Invested in the installation of solar collectors on the factory roofs – a reorientation to the use of renewable energy sources.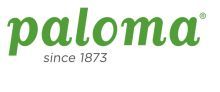 2013
New corporate identity
With the arrival of Tadej Gosak as the new Chairman of the Management Board, 2013 saw many changes and innovations. Paloma's corporate identity was completely redesigned. The company received the basic Family-Friendly Company certificate. On the production side, energy efficiency was improved by the replacement of a steam boiler.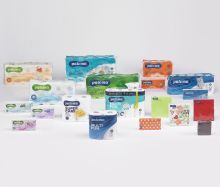 2014
Redesign of the Paloma product range
This year saw the start of the process of redesigning the product range in the "Consumer" division, which includes Paloma's toilet paper, facial tissue, kitchen towel and napkin ranges. Investment in the wrapping of parent reels also began. In the human resources field, mentoring and induction programmes began to be introduced.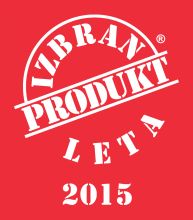 2015
Paloma products selected as Products of the Year 2015
Sensitive Care toilet paper and facial tissues and Super Care paper towels awarded certificates as Selected Products of the Year for 2015. This year also saw a redesign of the Away From Home range, which includes the Paloma Professional brand. Paloma also obtained an EBRD loan and reached an agreement on the rescheduling of its debts.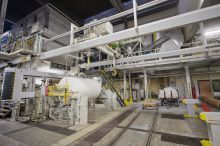 2016
Modernisation of paper machine No 5
The modernisation of paper machine No 5 has allowed us to increase our paper production capacity by 2,000 tonnes a year.